| | | | |
| --- | --- | --- | --- |
| | | Click on images to enlarge | |
SMART DRAIN FAIRWAY REHABILITATION EAST COAST COUNTRY CLUB SUMMER '04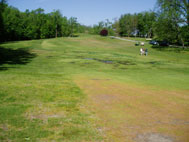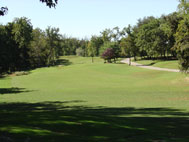 8TH HOLE BEFORE SMART DRAIN INSTALLATION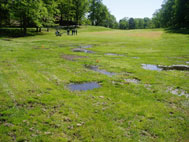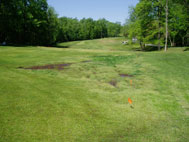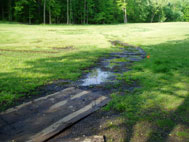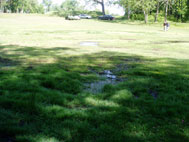 As you can see from the pictures above, this fairway was having significant drainage problems. Due to heavy spring and summer rains, and a non-functioning drainage system, the hole was waterlogged with standing water in many areas. This was hampering play, killing the grass and providing mosquitos standing water for breeding. We surveyed the drainage problems on the hole and came up with a new drainage system design utilizing SMART DRAIN™.
INSTALLATION OF SMART DRAIN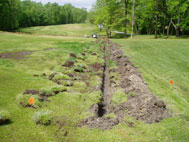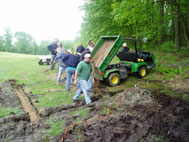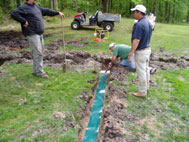 We first trenched the channels for the PVC drain pipes and laid the pipe along the trenches. Next we trenched the channels for the Smart Drain belting at 90 degree angles to the pipe. We then put a thin layer of sand in the belt trenches and placed the drain belts on top. We used a rotary cutter and cut slits into the PVC and inserted the belts. Lastly we sealed the junction of the drain belts and pipes with a wet curing cement and filled the drain trenches with an 80/20 mix of sand and soil. We covered the pipe trenches with the soil backfill and it was finished. The ground crew then graded and re-sodded the fairway. The drain belts started working even before we were finished.
STARTING TO WORK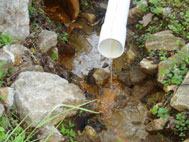 The fairway had been saturated for so long that the SMART DRAIN™ belts started draining as soon as they were in the ground and before any rainfall. During one rainstorm we measured the amount of water coming out of this one pipe, it was measured draining over 2,000 gallons in a 24 hour cycle.
HOW THE COURSE LOOKS NOW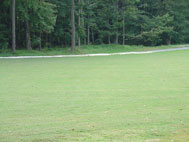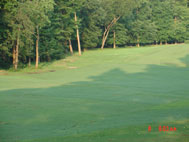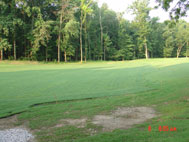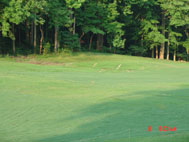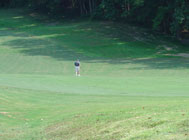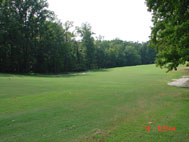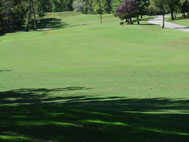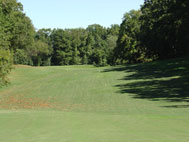 What a transformation! The SMART DRAIN™ belting eliminated all drainage problems wherever it was placed, no more standing water killing grass, inhibiting play and being an eyesore for players, and it will last far longer than any conventional drainage system.
BUT HOW DOES IT STAND UP IN HEAVY RAINS?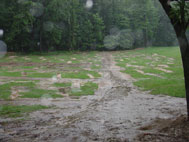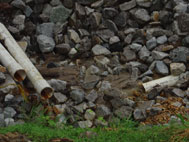 This storm rolled in after we had installed the belting but before the fairway had been re-sodded. The belts performed flawlessly. The only standing water was in spots directly over the PVC pipes, which had not yet been graded and sodded, and almost immediately disappeared as soon as the rain stopped. Below are some pictures of other fairways on the same course on the same day.
OTHER PARTS OF THE COURSE DURING THE SAME STORM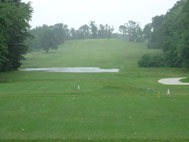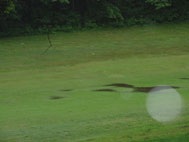 As you can see, other fairways were flooded during this storm. The fairway with SMART DRAIN™ suffered no flooding and all surface water was drained immediately when it ceased raining.
CROQUET COURT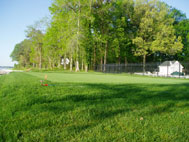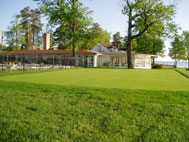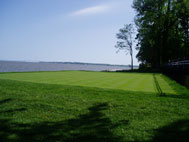 This croquet court was our initial project for the Country Club and the one that convinced the country club to go ahead with the fairway rehabilitation. There is one drainpipe down the center with the SMART DRAIN™ belts extending the width of the field on either side. As you can see, the results were excellent.
| | | |
| --- | --- | --- |
| | Copyright ©2003-2022 Smart Drain. All rights reserved | |